April Favorites
And just like that, four months have gone by! Bye April, Hello May!
But before we start getting on with May, my birth month, let's take a look back at the things that I loved in the past month! I don't have a lot of products to show you, but I do have a few favorite memories that I want to share!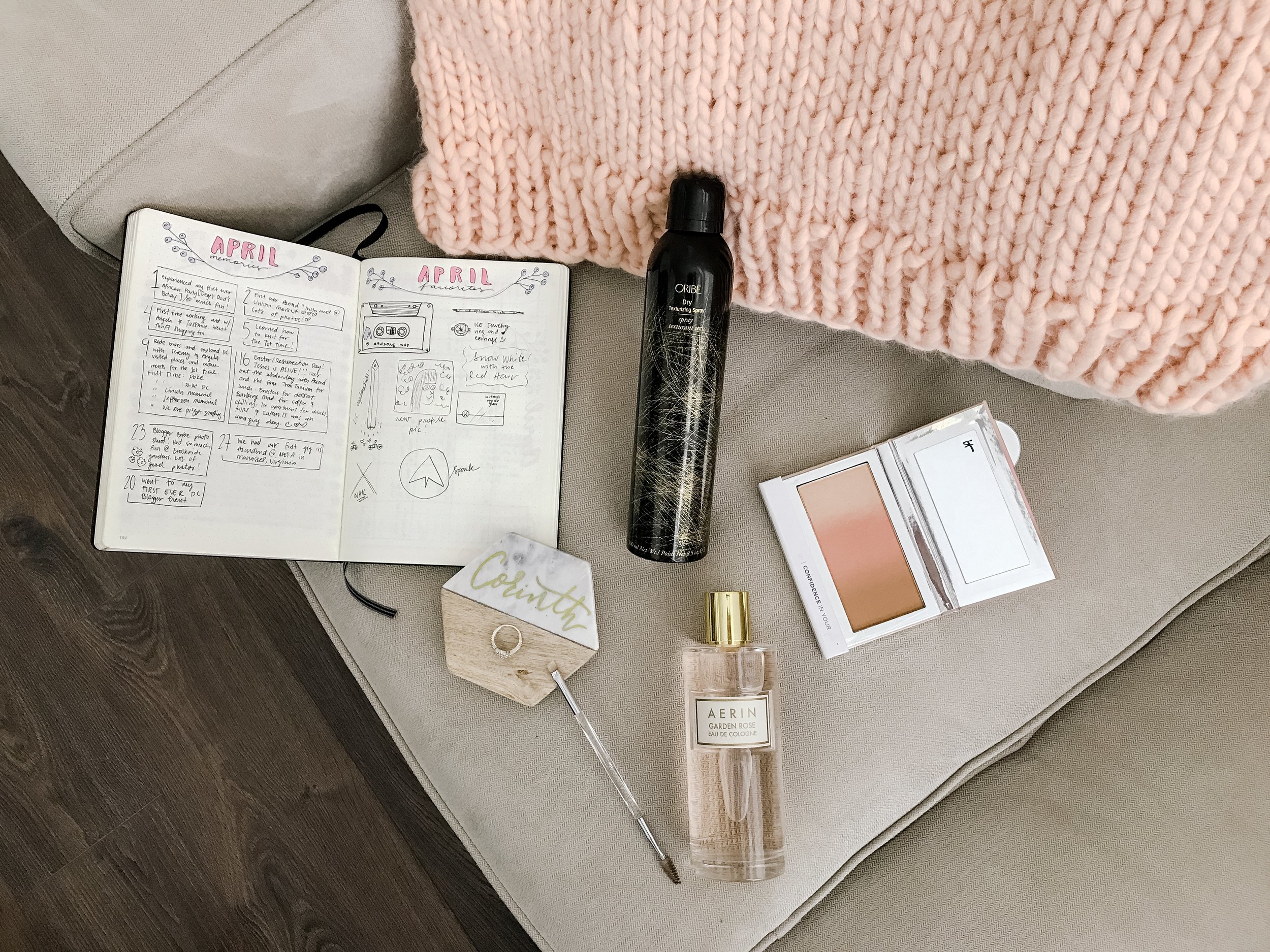 BEAUTY
ELF Beautifully Precise Eyebrow Brush - I received this brush in one of my ELF PR packages, and you guys, it is awesome! It easily became my favorite because of how thin and precise the angled brush is. It's perfect for creating thin strokes on your brows. It also has a spooly at the other end, which does a great job at blending out product. Like the brush, the spooly is small, perfect for precise blending, especially in the front parts of the brows! It's only $5!
Oribe Dry Texturizing Spray - I'm not sure if I featured this before already, but it's on this month's faves because this has made my hair look so much better, especially when curled! If you want weightless volume in your hair, this is your guy! It also smells amazing! This was gifted to me by my friend Angela.
Aerin Garden Rose Eau De Cologne - This has been my scent in the month of April. It's so soft and subtle that it doesn't give me a headache! Its spray is very fine that it doesn't drench your skin. It lasts a long time on my skin, and the bottle is gorgeous! This product was sent to me for a collab.
IT Cosmetics Confidence in Your Glow - Instant Nude Glow - This is the perfect spring/summer cheek palette for me! It's super pigmented that a little goes a looong way! The highlight in this palette is so gorgeous! It gives such a natural glow to the skin, which I've been liking so much lately.The shade of the blush is perfect for an everyday no makeup makeup look, and the contour/bronze shade is the perfect warmth for my skin tone! It also has kind of a faint bubblegum scent to it, which I actually enjoy!
MISC.
ICE Ring - I'm sure you've noticed that I've been wearing a new ring, and I absolutely love it! I've gotten a lot of compliments on it too which is always nice! I wanted a new ring, and at the same time, keep my precious engagement ring safe, so I reached out to ICE Jewelry to see if they were down to send me a ring in addition to the collab we were already doing. For my next one, I want something like this.
Hush Puppies Event Souvenir - I mean, just look at it! It's so pretty! I got this from my Hush Puppies Event, and the fact that an actual person wrote my name is just mind-blowing to me! I felt so special! HAHA. I don't know about you, but I really appreciate those little things! I believe it's a saucer (?), but I used it as my ring tray.
We Are Knitters - Of course, I had to include the activity that has consumed my April! I knitted my own cardigan, and I didn't think I would be able to say that! I learned how to knit, thanks to We Are Knitters! Read my posts about it below:
Exploring DC by Rental Bikes - Our friends Jeremy and Angela took Jorge and I biking around DC! It was my first time doing something like that and it was amazing! We visited the famous monuments around DC, and we legit played tourists that day! We took so many iPhone photos, and Instagram stories! Let me know below if you followed along the stories!
My First EVER Bloggers Event - Firsts will always be my favorites, especially when it comes to my blogging career! Read more about it here.
Spark - I recently discovered this (iphone & mac) app for my emails, and it's working wonders! I might totally ditch checking my emails through google because this app makes my life so much easier! I mainly use it for my work email right now, but I might just add all my emails to the app. I just wish that it loaded quicker, and that there would be a sync with other devices option.
13 Reasons Why - The show literally breathed life into the pages of the book I loved years ago. It was mad accurate, and if ever did change anything, they just added to the already-solid plot. This show is not something you can just brush off afterwards. It's raw, it's real, and it lingers. It's not your typical happy tv show for teens so I suggest that you brace yourself if you haven't seen it already. Who has seen it? Thoughts? Let's talk about it in the comments below!
(Honorable Mention) Girlboss - This isn't really a favorite of mine, because this show was actually rough to watch. HAHA. But there's something about it that's so entertaining. I finished it in less than 24 hours, and it was the show I watched while knitting my cardigan. Sophia was so hard to love, but by the end of the show, I felt all the feels for her.
Snow White with the Red Hair - Finished this anime in 5 hours! It's that good! I kind of also wish I had super short hair, like Shirayuki's! If you have any romance anime suggestions, please leave them below!
This photo - Jorge and I visited the Brookside Gardens with some blogger babes, and we took lots of photos! I cannot wait to share the photos with you, but one of my faves will have to be the portrait of me with the pink flowers!
Those were all the things that I loved in the month of April! Let me know yours!
PS: I'm working hard on something that I hope you all would love! It should launch soon, and if you are subscribed to my newsletter, I might have a surprise for you! 🙊 Also, my birthday's coming up! Send me gifts! HAHA. Kbye.
SUBSCRIBE TO BLOG UPDATES:
LIKE AND SHARE THIS POST: