My Baby's Bath Time Essentials
This shop has been compensated by Collective Bias, Inc. and its advertiser. All opinions are mine alone.
#JohnsonsLovesBaby #ChooseGentle #CollectiveBias
Back at the hospital when Adeline was only a day old, the nurse told me that my baby didn't like her bath at all. That made me feel a little challenged and a little anxious because as a first time mom, the thought of giving my newborn a bath was already daunting so I couldn't imagine giving a very fussy baby a bath! But a couple weeks after, as soon as her belly button's all good, my husband and I gave her a proper bath and was pleasantly surprised at how much she loved it! I wonder what the nurses did to her at the hospital. 🤔
I read that it's really good to start on a sleeping schedule as early as possible, and since Adeline's pretty good at sleeping, we already developed a really simple bed time routine for her: feed her half of how much she's supposed to have, give her a nice warm bath, moisturize her body, feed her the rest of the milk, swaddle her really well, play her Hillsong lullabies, and rock her to sleep. You guys, this routine works for my baby so well and she's only two months old! But I think what really helps her fall asleep fast besides my good ol' breast milk are the new and improved, inside and out JOHNSON'S® baby products!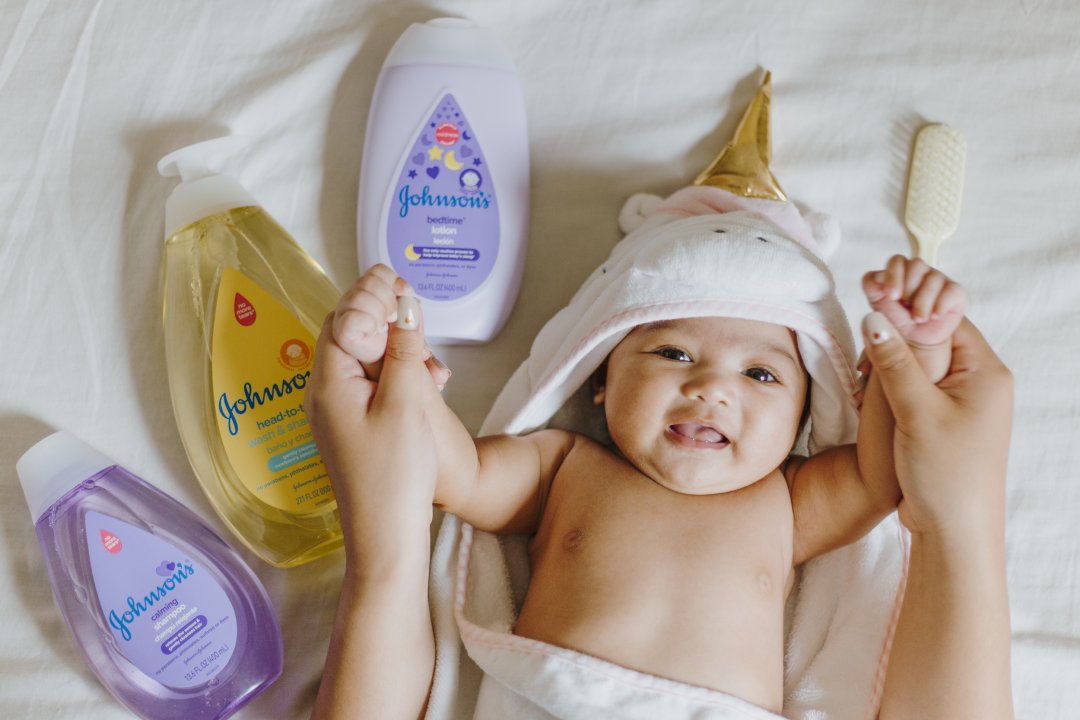 ✨ Hover over the tag in the photo for more product information
and how to purchase products! ✨
My baby's bath time essentials are the usual stuff: a baby tub, a soft wash cloth, a towel, some cotton rounds to clean her face, a cotton bud for her ears, and her JOHNSON'S® baby products for her head to her toes!
Adeline's bath time routine is pretty simple as well:
We fill up her tub with warm water

Scrub her body with a gentle washcloth and JOHNSON'S® Head-To-Toe Baby Wash & Shampoo which is ultra-mild, pediatrician-tested, and pH-balanced to baby's sensitive skin

Wash her hair with JOHNSON'S® Calming Shampoo to help her relax even more, plus, it smells amazing — like lavender!!! Also, it's provides gentle clean and it doesn't sting the eyes of our littles.

We rinse her

We pat her dry, put on her diaper, and moisturize her body with JOHNSON'S ® Bedtime Lotion which smells exactly like the calming shampoo — amazing!
I bought all these products at my local CVS and saved some $$$! These products are eligible for the great deals below so I highly recommend that you take advantage of it today:
JOHNSON'S® has always been a trusted brand in my family especially when my sisters and I were growing up, and I think it's pretty awesome that I'm not breaking the cycle with my own daughter. Adeline and I love our new JOHNSON'S® baby products!
Have you tried these products? What does your baby's bath time routine look like?