5 Tips on How To Get Started on Switching to Clean Makeup
"Switching to using ONLY clean makeup" sounds pretty overwhelming and scary at first, I'm not going to deny that.
It is daunting for sure because it means you're gonna have to commit and make sacrifices along the way . The road to #cleanbeauty is a tough one, but it's actually not as hard as we think. I've been using ONLY clean makeup for two months now and so far, everything's going well. I haven't gone crazy (yet), considering that I am a makeup junkie. Today I'm going to share some tips on how to get started on making the switch!
SWITCH AT YOUR OWN PACE - You can take things slow. Nobody's telling you to throw away all your makeup products now! Ditch and switch at your own pace.

CONTINUE EDUCATING YOURSELF - There's always new information out there and you need to be a sponge. Keep reading up on articles about clean beauty. Find out what ingredients you need to stay away from. Learn about the health risks of harmful chemicals in cosmetics. Find out what safer alternatives to use. List down brands, online stores, and people that support the clean beauty movement. Etc. Knowledge is power! And hopefully, this power that you gain, you use to help spread the word because the ultimate goal is to help more people see and discover safer options.

START BY REPLACING PRODUCTS YOU USE REGULARLY - You don't have to replace your entire makeup collection right now, but try to switch the ones that you use very often. Remember, the less exposure you get from these harmful chemicals, the better. I started by replacing the products that I use to get that beautiful and fresh "no makeup makeup" look.

If you need a great place to start, Beautycounter has an awesome Flawless in Five offer where you get 6 safer and high-performing products that will get you ready in no time! If you want to read some quick reviews on these products, click here.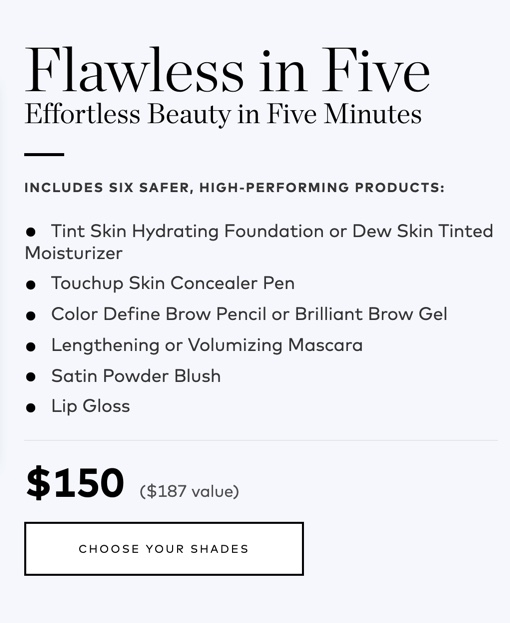 If you're thinking about buying the Flawless in Five set, sign up below so I can let you know of a special offer I have planned for you!
FOLLOW RELEVANT HASHTAGS ON INSTAGRAM - There is power in hashtags. If you're really serious about making the switch, start following relevant hashtags so these posts will start showing up as you scroll on your feed. This is such a good way to discover brands, products, people that share all things #cleanbeauty!

Here are some hashtags to follow: #cleanbeauty #cleanmakeup #cleanskincare #nontoxicbeauty #nontoxicmakeup #nontoxicskincare #cleanliving #cleanlifestyle #ditchandswitch #betterbeauty #saferbeauty #cleanbeautyblogger #cleanbeautyrevolution #cleanbeautyboss #nontoxicliving #nontoxiclife #switchtosafer #safebeauty

MARIE KONDO YOUR MAKEUP COLLECTION/ROUTINE - I'll have to admit that I'm not the best person to tell you to do this because I still haven't marie kondo'd my own toxic makeup collection. I used to buy makeup just to buy makeup and even though in my head I told myself that I was going to use them, they just ended up collecting dust. I'm sure you've done the same irresponsible thing. So what do I mean by Marie Kondo-ing your makeup collection and routine? Practice minimalistic consuming! Less is more!

Buy products you know you will actually use. You don't need 10 lip options because you know in your heart you'll be reaching for the nudes. Do you really need to do that extra step in your makeup routine, or can you do without? Think about it: the less steps you have to do, the less makeup you have to use; the less makeup you have to use, the less money and time you have to spend; the less money and time you have to spend (on makeup), the more time you have for more important things! It's a beautiful domino effect!

I'm not going to lie, at first it may feel like you're depriving yourself of the satisfaction of buying the newest releases, but in reality, you're actually liberating yourself. I no longer feel the need to buy the newest things, the newest makeup collabs of my favorite YouTuber, the trendiest makeup product. It actually feels nice to know that I'm good with what I have, and that what I have is good (for me).
DISCLAIMER: I am a Beautycounter consultant so any purchases made through my personal link will help me earn some cash. Thank you in advance. :)