Is ColourPop's Brow Boss Gel Any Good?
I rarely try a new brow gel because ever since I got my Loreal Brow Stylist Plumper, I just stuck with it, and additionally, it just lasted forever! I swear I think I used one tube for over one year, it's crazy! But when it ran out, I decided to pick up a new one, and I decided to try out ColourPop's Brow Boss Gel since I was already picking up a few things on the website.
Do I love it? Do I hate it? Well, scroll on through...
I'm not gonna lie, the packaging is the most adorable thing ever! I love the blush pink box the actual product came in. The brow gel tube has a nice clean look to it sticking to a white and silver theme. The applicator is the perfect size for precise application on the brows. It's amazing how small the brush is! It's only $6! But the important question to ask is this: is the brow gel itself any good?
I DO NOT LIKE THIS. :(
I was disappointed by how this product performed on me. I expected so much from this brow gel because Kathleenlights raved about this, and everyone else said that it was a dupe for Glossier's brow gel (which is apparently really really good). When I tried it for the first time, I gave it the benefit of the doubt. Then I tried it a few more times to really have a feel for the product. Then a little bit more, but naaah. I just really don't like this product.
WHY I DIDN'T LIKE IT:
The brow product is more "clay-like" than it is a gel.
It's not 100% clear. If you apply too much, this product will leave a white cast on your brows ⏤ not cute.
To make this work, you're going to need to scrape off the excess product before applying on the brows, so have a clean spooly near you. You're going to need it to brush off the excess brow gel so your brows don't look white. It's an unnecessary extra step in my brow routine for sure.
I don't think this actually keeps your brows in place. Since its texture is "clay-like", it will not 100% harden your brows in place. This can be a good thing if you don't like cemented brow hairs because this product does make your brow hairs keep its soft look. But don't expect it to hold your hairs in place all day.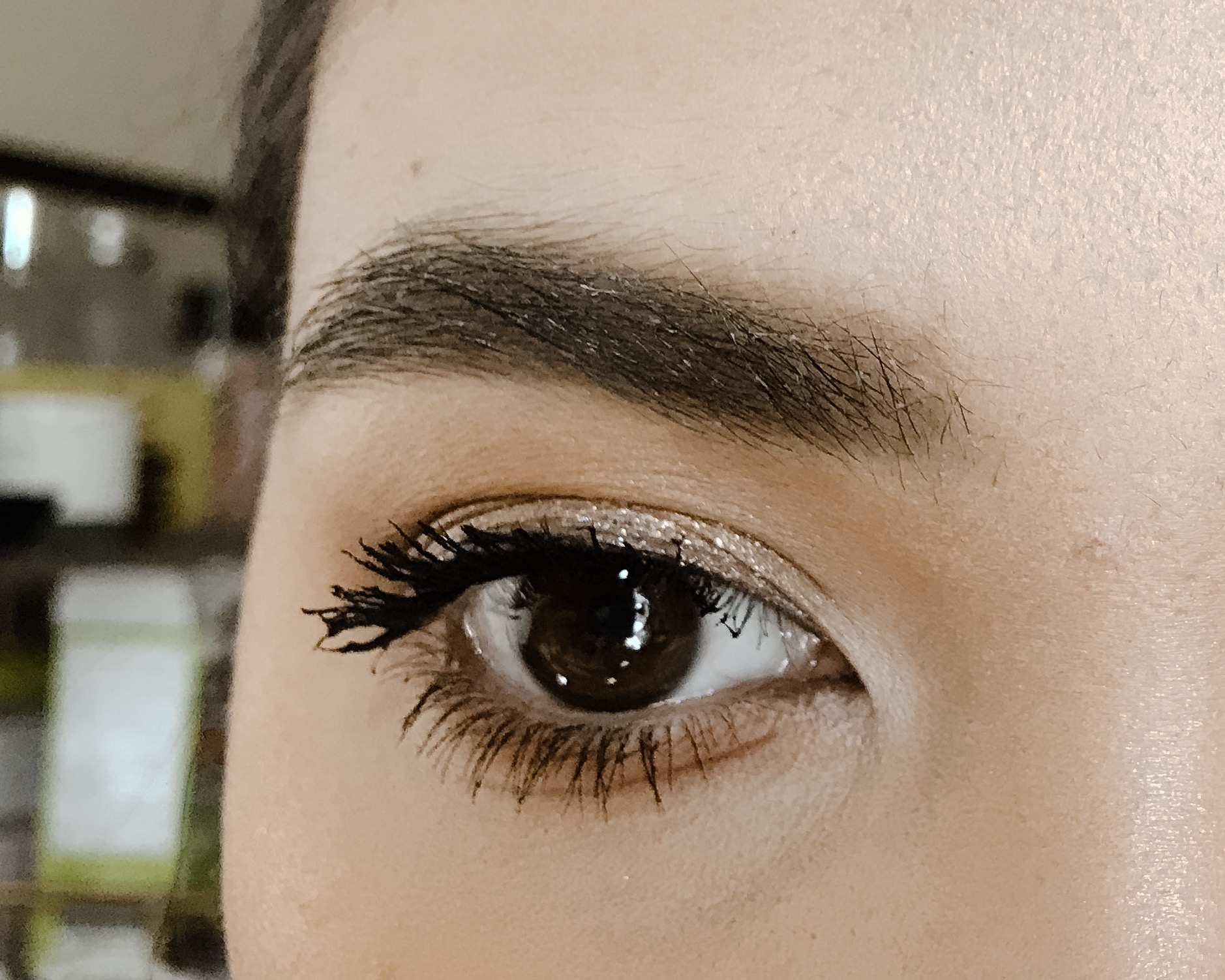 ← you can see the white cast
I rarely leave reviews on the ColourPop website, but I did for this product. I expressed my dislike, and to my surprise, I received an email from their customer service the next day. They told me that they wanted to give me either a fresh brow gel, or another product of the same price. Of course, I took this chance to try out something I have never tried before and ordered their Ultra Blotted Lips in the shade Zuma. I received it a few days ago, and spoiler alert: I AM FREAKING IN LOVE! It's probably one of my most favorite liquid lip formula from them! I do commend ColourPop for taking care of their customers, and they will forever be one of my favorite cosmetic companies. :)
WILL I RECOMMEND?
I wouldn't recommend this product. BUT, if you are willing to do the extra steps to make the product work, it's good for what it is since it's only $6. I am waiting for them to release colored brow gels. I really think that will solve the white cast issue.
HAVE YOU TRIED THE COLOURPOP BROW BOSS GEL?
did you like it? hate it? let me know below!