My New Hair
It's already been over a month since my new hairstyle, and to this day, I AM STILL LOVING IT!
Today's post will be all about my hair transformation, and at the end of the post, I will be sharing with you some of the products I have been using on my hair on a regular basis. This is my first official #HairStory post, and I hope that you enjoy reading and (at least) find it informational.
I've never really had a hairstylist until I met my friend Angela, and she's literally heaven sent! Angela is such a good friend of mine, and I'm truly blessed to have her in my life. She's one of the sweetest, most caring, and most thoughtful people I know, and she just so happens to be really good with hair too! She wanted to do my hair for my birthday, and so she did, and it's one of the highlights of my birthday month!
We've had several talks about turning my hair pink (which is still legit my dream hair haha), but for my birthday, we just went lighter, and because she's really good at what she does, and she really cares about the condition of her clients' hair, no frying was done. My hair felt really nice and healthy even after all the treatments that were done to my hair.
F I R S T & S E C O N D S E S S I O N S:
On May 16th, we did our first session. We didn't really think that we were going to need a third one, but we'll get to that later. We spent 5-6 hours at the salon she works at that day, and that's because Angela wanted to do things right. To go lighter from really dark or black hair takes time if you want to keep your hair healthy. And since my hair was dyed black, she had to work a little harder to make it lighter, hence the long hours.
First, Angela did a balayage, which took 3-4 hours (I think) because I have a lot of hair! I didn't realize how thick my hair was until she pointed it out to me. HAHA. We wanted that nice fade so that even when my roots grow out, we won't really need to touch up anything.
Then, she added baby lights. This process just helped blend the fade from dark to light better, which she's really good at by the way! Take a look at her work here! I love how the color turned out because we went for a warm tone, which will compliment my skin tone and my brown eyes a lot.
And lastly, she cut my hair! I really wanted to go short, but she only trimmed a little bit of my precious locks because she knows Jorge wants me to grow my hair out. HAHA. She touched up my bangs a bit, and gave me a few layers so my hair won't feel as heavy as before.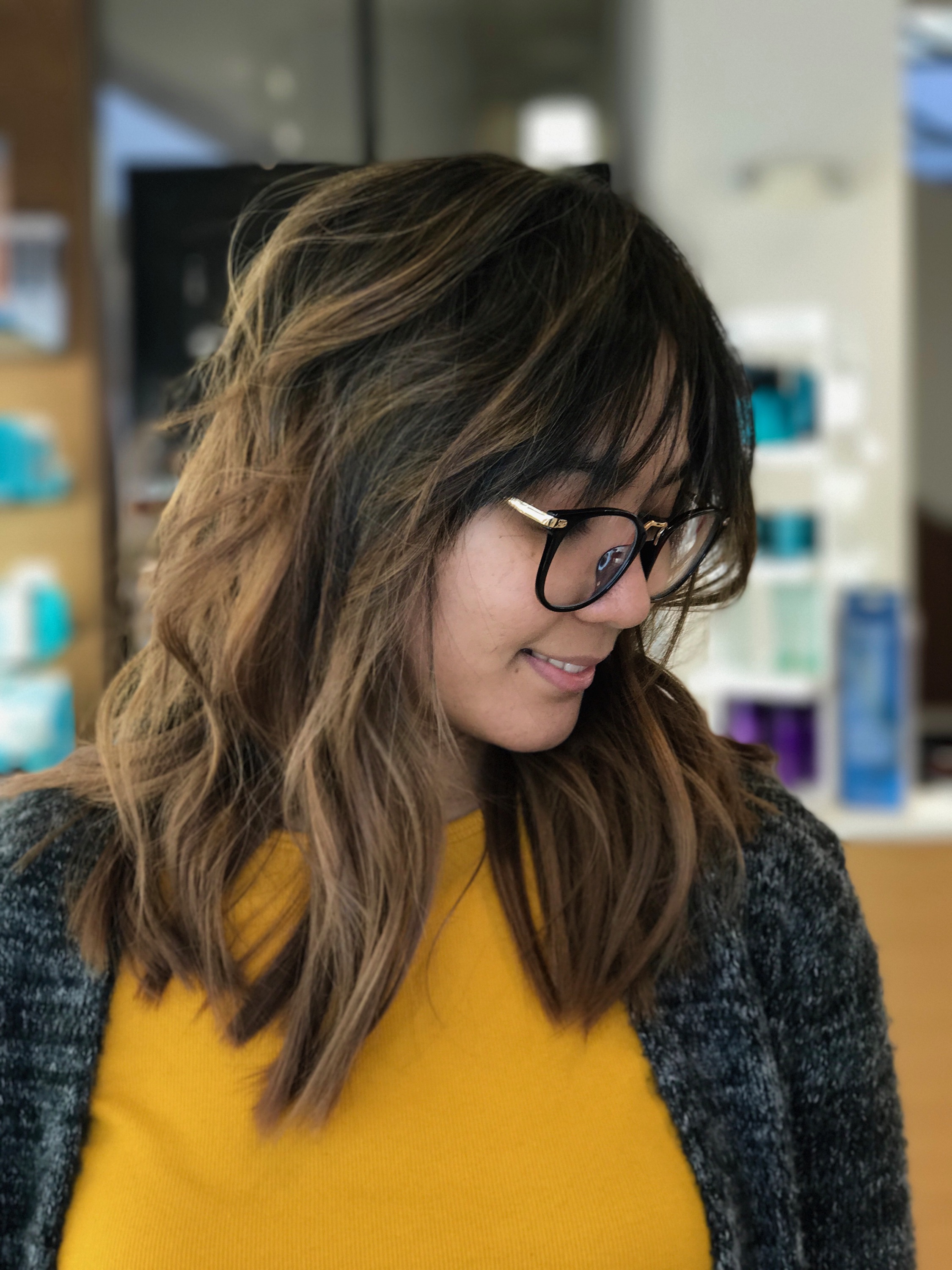 I LOVE HOW IT TURNED OUT
and I got a lot of compliments on it! It literally felt like I was a new person and that night, I couldn't stop looking at myself in the mirror! HAHA. And for some reason, my hair kind of made my face brighter that it felt like I didn't really need makeup at all to feel more confident.
Now, let's fast forward to next week.
T H I R D S E S S I O N :
On the day before my birthday, Angela took me on a brunch date to celebrate my 27th year of living on earth. Then she just casually asked me about my plans for the day, and I told her that I was planning to shoot my hair for this blog post, and for some outfit shots as well. Guess what she said. "Okay, I'll do you hair." And so she redid my hair that day, and it turned out even better than the last time!
For my third treatment, she toned my hair, and brought the highlights on the top of my head lower. She also cut my hair shorter because it's what I really wanted, and I got shorter bangs as well.
I'm not sure if you can really notice the difference in the photos, but my hair turned out a little bit more ashy than warm. And since these photos were taken a month from when I'm writing this, needless to say, my hair faded out even more, and looks a lot lighter, and I'm not even mad about it!
These photos were taken outside in natural lighting, with super minimal edits. I made sure the color of my hair stayed close how it looks in real life.
Now to other important matters... I got asked on Instagram a few times what color my hair is. And to be honest, I don't know! It's all Angela's magic. I learned through the procedures she did on me that the toning of the hair is a really big part in the overall outcome of the color. It's not all "lemme bleach and slap on color to your hair". So I suggest that you always consult a professional before doing anything to your hair. I also learned that using box dyes and diy hair colors are really bad for your hair! That's the ultimate way to kill your hair, and those stuff make hairstylists cringe! If you really want to take care of your hair, find a hairstylist you trust, and stick with that person!
Now if you want to get the same effect/color on yourself, and if you are around the DMV area, I highly recommend booking Angela! Only she knows exactly what was done on my hair, and only she can do it best!
Get booked today by sending her an e-mail:
PRODUCTS I USE FOR MY HAIR:
My hair is a little lighter now from washing, and I'm loving it!
If you want a more in depth post about all the products I use for my hair, please let me know! :) Until next time!