Things That Make Working Moms Happy
This post is sponsored by BabbleBoxx.com.
Working moms are unsung heroes because not only do they successfully manage the household, they also take time to follow their dreams.
As a freelancer, I work from home, and though I have the luxury to set my own work hours, get stuff done in the comforts of my at-home-office, be my "own boss" if you will, things still get really difficult! No matter how hard I try to manage my time and to-do lists, sometimes, life can still be overwhelming! So I try my best to find a balance and indulge in the things that make me happy.
Today, with the help of Babbleboxx, I will be sharing with you some of the things that help make working moms sane and happy, because if you are a working mom like myself, you know things can get pretty crazy. #BabbleBoxxHERStory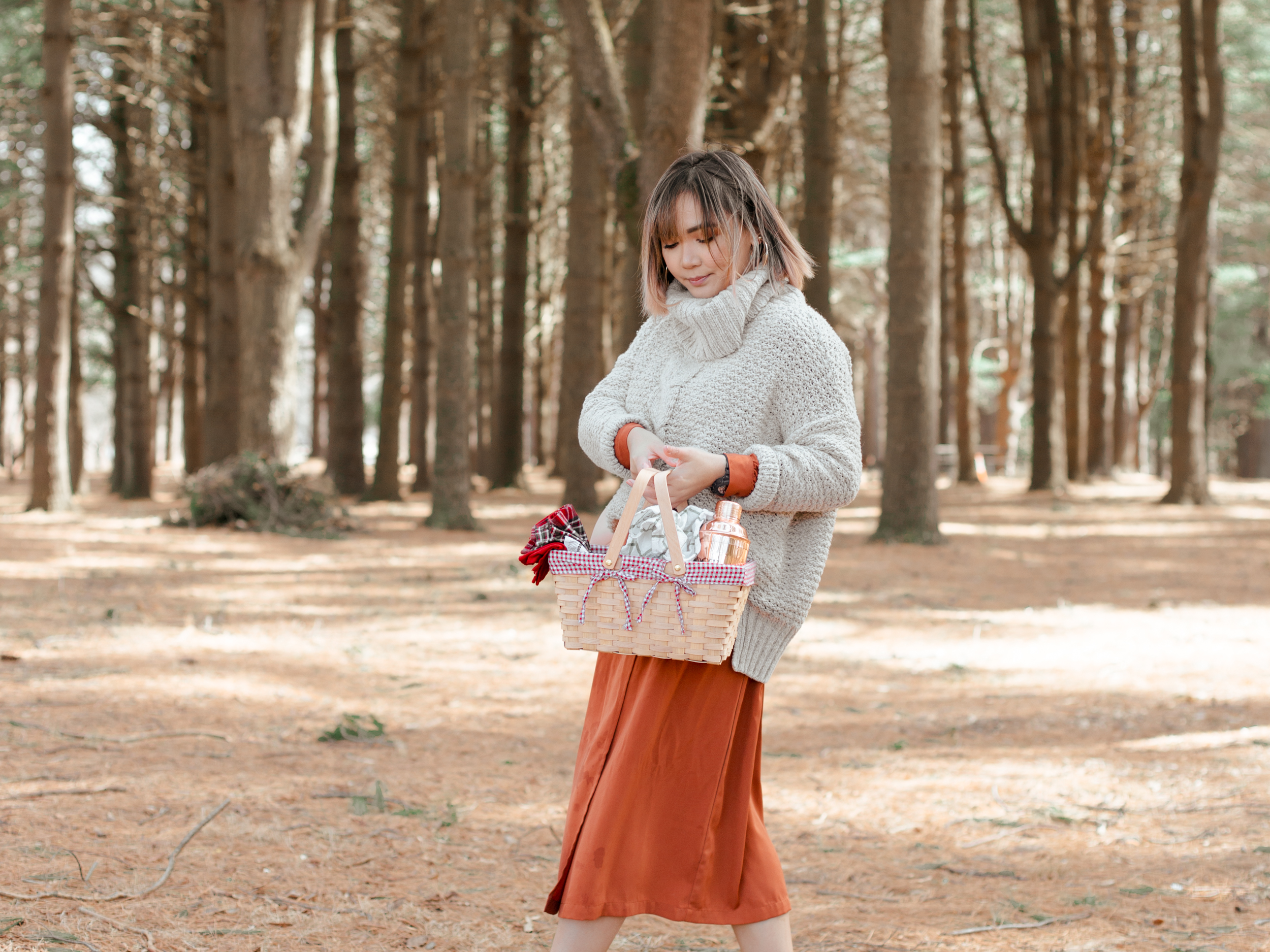 THINGS THAT MAKE WORKING MOMS HAPPY
A BREAK
Sometimes, all you have to do to feel refreshed and happy is to drop everything, leave the house, go out in nature, and be in company with your closest mommy friend. So last week, I asked my friend Angela to join me for a little picnic out in Seneca Creek State Park to relax, eat, drink, and just unwind. We brought our little girls with us and we had the most amazing time. I prepared the easiest charcuterie board, made us mocktails, and embraced the beautiful "almost-spring" sunlight.
2. Cocktail Mixers
Whoever said cocktails can't make moms happy?! The answer is: nobody! Mommas that drink know how to have fun, and everybody knows that! But for our picnic, I opted to make a mocktail instead because I knew we'd have our babies with us. I do plan on doing another get-together with my friend with real spirits next time! I made our mocktail with 2 parts ROOT Crafted cocktail mix and 1 part tonic water.
ROOT Crafted is an all natural crafted artisanal cocktail mix that is created by 2 moms so you know it's good! I got The Lemongrass flavor and it was so refreshing and delicious! Both my friend and I quite enjoyed it. It has the perfect amount of sweetness that will surely put a smile on any mommy's face! It's now available on Amazon Prime which makes cocktails even easier to make!
3. A Good Book
I brought some books for women at our picnic because as a self-proclaimed bibliophile, I know that books can take you to places far beyond your imagination. Books are a great way to free a mom's mind from stress, so I thought it would be fun to read at the park. But to be honest, it was almost impossible to do so with two infants with us. #majorfail
I'll make sure to leave the kids with their dads next time!
Babbleboxx sent me over an assortment of becoming and best seller books from Harlequin.
29 Dates is about traditional South Korean parents finding their daughter the right boyfriend.

Set in the 1940's, The Things We Cannot Say is an emotional story about how two women's lives weave together into a tapestry of perseverance, loyalty, love, and honor.

The Summer Cottage is about the restorative power family tradition, small-town community, and the feel of sand between your toes.
The books that I received are definitely up my alley because I love well-written stories of strong female characters, sisterhood, friendships, women's journeys, and female empowerment which are great to be read and shared with your galfriends. I hope you are a book lover like my friend and I because #StrongWomenRead!
Speaking of strong women, you have a chance to win a pack of awesome books and a swag bag of pampering goods if you visit StrongWomenreads.com and tell us who the strongest woman is in your life…real or fictional! The #StrongWomenRead Prize pack includes - scarf, a sleep mask reading socks, a cosmetic bag, a pen and six incredible new books!
4. New Accessories
Retail therapy truly is a window to a woman's happy heart, so best believe when I feel down, I treat myself to new things! Babbleboxx came at the perfect time because when I saw that they sent over a new G-Shock watch and a pair of cute women's shoes from Earth Shoes, I was over-the-moon!
This G-Shock S-Series GMAS120MF-2A2 watch is a new addition to my watch collection and it features a beautiful matte navy blue strap with a stunning rose gold mirrored face! This watch is equipped with features such as 200M water resistance, auto LED light, 4 daily alarms, 1/100th second stopwatch, and a countdown timer.
These super comfortable shoes from Earth Shoes are my new favorite pair of sneaks! Since I got them, I honestly cannot stop wearing them! These gorgeous Rosewood Cedarwood sneakers are made for walking because they're made with heel to toe cushioning and reinforced arch support! I love that the heel is collapsible because I can literally just slide my feet in them and I'm out the door!
As their name suggests, Earth Shoes loves the earth and is taking steps to making our home a better and healthier place. Did you know that with every Earth Shoe purchase they plant a tree? Read their story here!
5. A Massage or Facial at Hand & Stone
If there's someone who deserves a massage or facial more than anyone, it's me, your mom, your sister; it's the women in your life! So when they hint about wanting to relax, treat them to a nice Swedish Massage from Hand & Stone. I had the opportunity to get a massage at my local Hand & Stone Massage and Facial Spa and I had the best experience!
When I arrived, I was greeted by the warmest people, and they asked me to fill out a short form. They will hand you a little page where you can add enhancements to either your massage or facial. I asked for a hot towel massage for my hands, aromatherapy because your girl loves her essential oils, and of course, I had to try their special Himalayan Salt Stone Massage! It was my first time getting a professional massage and I was nervous yet very excited! James, the sweetest masseur ever, brought me to my room and made sure I was comfortable. The room smelled like the essential oil that I asked for: lavender, and I instantly felt relaxed. The actual massage felt incredible and the icing on the cake was James' extremely soothing British accent! Honestly, my first time couldn't have been better! I left the spa feeling extremely relaxed and satisfied! I give their service a 10/10!
Before I left, the sweetest staff named Katie told me that they were able to give me a special discount code for you guys to use at Hand & Stone! If you use my code CS10Off, you can get an additional $10 off their introductory price for the Swedish Massage which is either $49 or $59, depending on location!
6. Clean Beauty
In case you didn't already know, I started ONLY using clean makeup and skincare products because I want to make better choices when it comes to my skin and overall wellness. Clean beauty is a growing movement that I'm proud to be a part of!
As a working mom I try to cut my night time routine in half so any product that kills two-birds-with one stone is something that surely make me happy! Thanks to Babbleboxx, I've discovered an oil cleanser that TRULY delivers what it promises! Your Only Cleanser from Knours. is an oil-to-foam hybrid cleanser that dissolves makeup then transforms into a foam cleanser. Most oil cleansers leaves an oily residue on the face but not this one from Knours.
Knours. is a natural, cruelty-free, and EWG verified hormonal skincare brand that works with our hormones to keep the wrath of Aunt Flow at bay. It's the period skincare we've all been needing this whole time!
Mommies, what are some things that put a smile on your face! And before you leave, be sure to enter the giveaway because you deserve to win in life!
Disclaimer: This post is sponsored by Babbleboxx but as always, all thoughts and opinions are my own. Photos were taken by Jorge Suarez, edited with my J13 Preset