How I Styled my SS17 Hush Puppies Shoes + My First DC Bloggers Event Experience
It's not everyday that I get invited to a bloggers event, but when I do, I make sure that I write about it! Hush Puppies invited me to their Spring Summer 2017 collection viewing this past weekend, and I had such a great time, it being my first blogger event ever!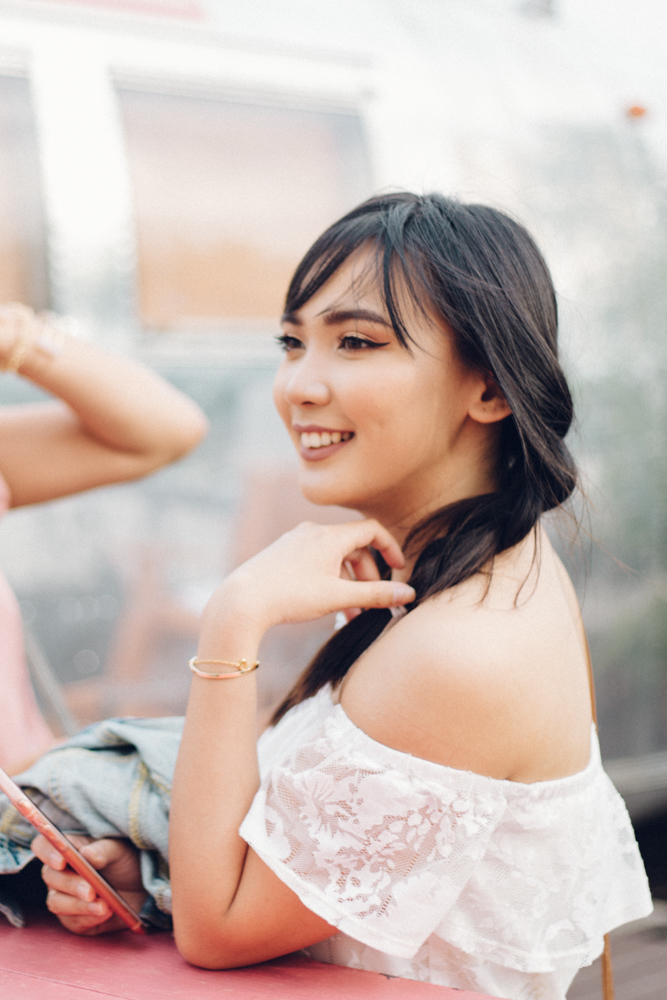 When I got the e-mail, at first I was like, "WHAAAT?! OMG MY FIRST BLOGGER EVENT THAT I CAN ACTUALLY GO TO, THIS IS SO EXCITING", then I was like, "OMG, A DC BLOGGER EVENT, MEANING, THERE WILL BE A LOT OF BLOGGERS THERE, A.K.A., STRANGERS, AND I GET TO HAVE DINNER WITH THEM..." My excitement quickly turned into anxiety because if you know me, you'd know that I'm shy, and I usually don't know what to do in crowded places. But my ever-supportive husband helped reassure me that attending would be a good idea, so I responded to the e-mail with a BIG "yes, I'll be there", and now, here we are! #BetterInPairs
Hush Puppies not only invited me to their event, they also were so generous to gift me a pair of shoes from their new SS17 line!
The pair that I chose were sent to me a few days before the event, and I was so eager to style it! Luckily, I learned that a blogger friend of mine, who I've already met before, is going to the same Hush Puppies event, and you could imagine the relief that washed over my entire body! I felt even more excited about everything, and we decided to make this post a collaboration, showing you guys how we both styled our Hush Puppies Shoes for the night of the event!
As you have seen from the photos above, I went for a light casual look! You can never go wrong with a white dress and denim, so that's exactly what I wore! I went for pigtails for my hairdo because I didn't have time to curl my hair, make it look cute and stuff, but apparently, braids are cute too because I got a few compliments on them at the event. Hehe. Love love love my Hush Puppies shoes because they are so comfortable, I could walk in them all day! In fact, I wore them for 12 hours straight that night, and my feet didn't scream for help.
WHAT I WORE:
• Dress - JUSTFAB
• Denim Jacket - THRIFTED
• Shoes - HUSH PUPPIES
• Locket - OLIVE YEW JEWELS
• "C" Initial Bracelet - ETTIKA JEWELRY - Use my code "CORINTHSUAREZ" to get a 15% discount!
• Rose Gold Cuff - DANIEL WELLINGTON
• Bag - FOREVER 21
Shop Off-The-Shoulder Dresses
Now, it's time for all of you to meet Iliana, A.K.A.,
🌸 SOPHISTICATED FASHIONISTA! 🌸
She's a lovely style blogger who loves Jesus, and she legit saved the day by being my event partner! There is no dull moment with her, and I cannot wait to let you guys know what we've been cooking up together, but we'll save that info for another blog post later. For now, be sure to check out her blog post to see how she styled her own shoes!
As for the event itself, it was overwhelming, but in a good way! It was held at Masseria, and the decor was a dream, and the energy was vibrant! It was so nice to have met bloggers in the area, and it was just a beautiful night filled with delicious food, wine, and chatter! I didn't talk to the ladies as much as I should have, but now I know what goes on in events like this one, and I'm preparing my library of words for my next one, God-willing!
It was also so nice to see that brands, such as Hush Puppies trust the work of bloggers, which I hope we see more of in the DMV area. I thought that the blogging scene here was dead. Apparently, I was just not in the right circles. I'm hoping that this event will not be my first and last one! I'm so excited to see how my blogging career is going to blossom! Enjoy the photos from the event!
* CLICK PHOTOS FOR ENLARGED VIEWING *
Thank you so much Hush Puppies for hosting such an amazing night! Thank you Iliana for being my event partner. And finally, thank you God for always leading the way. I'm so blessed, and I'm very happy! ❤️ Here's to many more opportunities to come!
OOTD Photos were taken by Jorge Suarez
LIKE AND SHARE THIS POST: